Sat 4 Jul 2009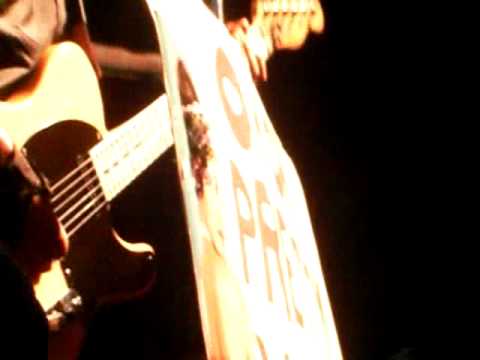 More clips from Munich on YouTube.
2009-07-02, Olympiastadion, München
Bruce Springsteen & The E Street Band live in Munich! A stadium show on a hot summer night; though I was sceptical, Olympiastadium is very nice — and even nicer from the pit in front of the stage.
And what a night: My eight show was one of the best with the E Street Band! This 'wow, awesome' feeling was there immediately, I was crying already at the third song, and singing all night long. The band was great: Max was here!, though Clarence could hardly move, he got his (few) solos right, and Nils is awesome but underemployed.
The difference to the last tour was a very loose Bruce, having fun and celebrating a big party (not only Roy's birthday). Inflatable cake , paper plane, and squeaking toy dragon included. Plus, the neck breaking speed of the Magic Tour was gone, with a great setlist (though, next night's Frankfurt set was stellar).
Highlights were a fun Spirit in the Night, Seeds (great guitar) and Atlantic City, Seven Night To Rock, and a beautiful The River (steaming hot in Glastonbury). After a sign request brought an impromtu This Hard Land (pulled from a numbered envelope), the most memorable moment was the request for Orbison's Pretty Woman for Roy's birthday. That sign just had to get his attention! Big thanks to the two Belgian guys for that work.
Hard Times was a final highlight (and Cindy very hot), but still not the end of a 2:50 hrs show…
Setlist:
Muss I denn zum Städtele hinaus aka Wooden Heart [Nils solo]
Badlands
My Lucky Day
No Surrender
Outlaw Pete
Spirit in the Night
Working on a Dream
Seeds
Johnny 99
Atlantic City
Seven Nights to Rock
This Hard Land
Pretty Woman
Because the Night
Waitin' on a Sunny Day
The Promised Land
The River
Kingdom of Days
Lonesome Day
The Rising
Born to Run
Tenth Avenue Freeze-out
* * *
Hard Times
Bobby Jean
American Land
Detroit Medley
Glory Days
Dancing in the Dark
Leave a Reply