Sat 15 Mar 2008
Rock 'n' Roll? Well, certainly, this man belongs into some Hall of Fame: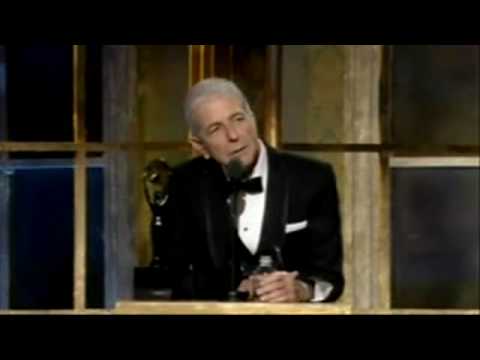 I especially loved the insider pun: "I reminded of the prophetic statement of Jon Landau. In the early 70s he said: I've seen the future of rock 'n'roll and it is not Leonard Cohen."
Well, my friends are gone and my hair is grey
I ache in the places where I used to play
And I'm hungry for love but I'm not coming on
I'm just paying my rent every day
Oh in the tower of song
I said to Hank Williams: how lonely does it get?
Hank Williams hasn't answered me yet
But I hear him coughing all night long
A hundred floors above me
In the tower of song
I was born like this, I had no choice
I was born with the gift of a golden voice
And twenty-seven angels from the great beyond
They tied me to this table right here
In the tower of song
So you can stick your little pins in that voodoo doll
I'm very sorry, baby, doesn't look like me at all
I'm standing by the window where the light is strong
They don't let a woman kill you
In the tower of song
Now you can say that I've grown bitter, but of this you may be sure
The rich have got their channels in the bedrooms of the poor
And there's a mighty judgement coming, but I may be wrong
You see, you hear these funny voices
In the tower of song
So I bid you farewell, I don't know when I'll be back
There moving us tomorrow to that tower down the track
But you'll be hearing from me, baby, long after Im gone
I'll be speaking to you sweetly
From my window in the tower of song
4 Responses to "Leonard Cohen in Hall of Fame"
Toodie says on
March 20th, 2008 at 1:19 am :

Glad to see your posting.
I enjoyed the video. It brought
back memories.

frankenschulz says on
March 26th, 2008 at 10:11 am :

Berlin, August 30, 2008: I'm going to see a God…

frankenschulz says on
April 10th, 2008 at 1:48 pm :

damn, concert cancelled/postponed:

Veranstalter sagt Konzert mit Leonard Cohen ab

10.04.2008 (ms) – "Logistische Gründe"
Berlin – Es wäre sicherlich ein toller Abend geworden, nun wird nichts draus: Music Pool Europe, Veranstalter des für 30. August angekündigten Konzerts von Leonard Cohen auf der Berliner Waldbühne, sagt die Show ab.
Als Grund für die überraschende Absage – das Konzert befand sich erst seit drei Wochen im Vorverkauf – nannte der Veranstalter "logistische Gründe". Fans können dennoch hoffen: Nachholtermine sollen im Herbst stattfinden, Informationen dazu bald folgen. Tickets für die Berlin-Show können zurückgegeben werden.

frankenschulz says on
April 11th, 2008 at 10:29 am :

by Tom Sakic:

None of August dates was officialy confirmed by Leonard Cohen office. The other thing were negotiations between AEG Live and local promotors for August leg of the tour, which LC has delayed, as he has too many shows in May, June and July. Now, why some promotors decided to sell the tickets 5 months in advance, for officialy NOT confirmed shows, is another question. Leonard is not to blame for any of August cancellations, as he did not sign or anounce anything after July 29.
Leave a Reply